By: Amaka Korie
Boots Riley's directorial debut Sorry to Bother You is everything you didn't know you needed to see.
This idea turned screenplay turned musical album turned book turned movie has made its way to Sundance, scoring high appraisal and a 92% on Rotten Tomatoes.
The combination of the avant-garde realism, radical storyline and perfect cast all amount to Boot's masterpiece. Giving Black Mirror-isque vibes, Riley tells the story of a not so distant future where government-tied monopolies reign free and violence is exploited in the media (sound familiar?). Our protagonist Cassius Green, played by Get Out's Lakeith Stanfield, secures a job in telemarketing at his hometown, Oakland, California. Cash works his way up to be a "power caller" by masterfully code-switching to his inner white-voice after receiving advice from his fellow black co-worker (Danny Glover). However, he has to sell himself out in order to sell more. Although this new lifestyle lets him upgrade from living in his uncle's (Terry Crews) garage to his own condo, his artistically woke girlfriend, Detroit (Tessa Thompson) calls him out for the shift in his personality as he becomes vapid. Morals are put on trial when Green's co-workers start a protest for a workers union. The plot completely erupts from here but you gotta watch it to find out how.
As a hip-hop artist and long-time activist, Riley's goal as a teenager was to "create a radical movement." In the advent of black talent shaking the TV and Film industry from Issa Rae to Jordan Peele, Riley believes that "It's a new time for filmmakers…. it [blacks in film] should also spawn different narrative structures." The nature of film is evolving as the voices behind them change. Just as Get Out shared some subliminal social commentary about race relations in America, Sorry to Bother You holds deeper messages about the role of greed in our capitalist society and the power of modern activism. Riley wants his audiences to know that "None of us are untouched by the system so we have to keep fighting [it]."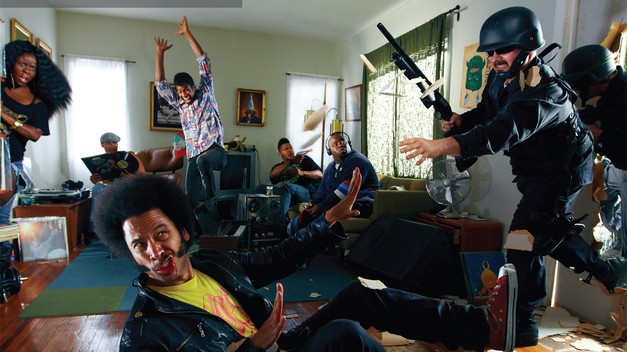 Don't forget the popcorn- you're gonna need it for this one.
Check out the trailer below: