By Ariana Cobb
When the news broke that Chadwick Boseman was bringing his new film, 21 Bridges to his alum mater, Howard students were eager to secure their tickets. Along with hearing from the alum himself and see what advice Boseman and producer Logan Coles, a fellow alum, could give them at the panel following the movie. 
As the students began to fill Cramton Auditorium, they were greeted with a DJ that helped get the evening started. You knew it was going to be a great night when people were in the aisles dancing to "Before I Let Go". After the dance break, our very own Mr. Howard, Grant Roberson gave a warm welcome to everyone.
"21 Bridges is a movie like no other," he said. With that, the movie began. 
21 Bridges follows NYPD detective, Andre (Boseman), who is tasked with a citywide manhunt for two men who have killed police. As the night unfolds, he makes the decision to shut down the island of Manhattan by closing all bridges and tunnels as well as stoping all trains and looping all subways in order to keep the killers from leaving New York.
As usual, students took to social media to share their experience.
Once the movie concluded, Mr. and Miss Howard University, Grant Roberson and Kyla Cole, came to the stage to introduce the panel which included Chadwick Boseman and Logan Coles. As the panel began, the two were asked what is the first thing they do once back at HU, "the first thing I do is go to fine arts of course," Boseman stated, "I'd go to fine arts and SOC," Coles followed.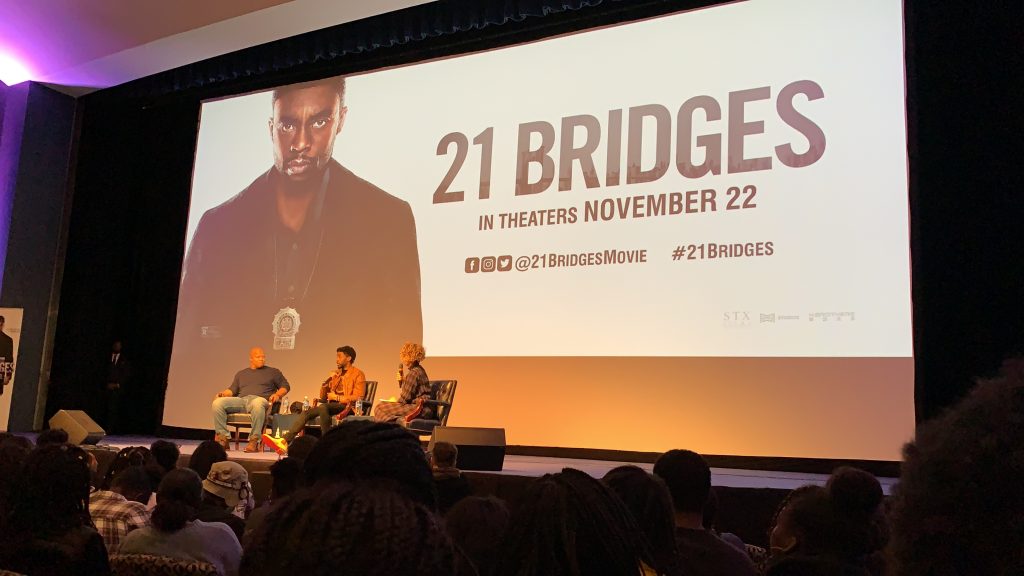 The two also touched on what going to Howard did for them in their careers. Logan Cole emphasized, "to go into spaces with people who don't necessarily look like you and not feel intimated." Boseman discussed feeling apart of the legacy of people who went to Howard.
The panelist then began taking questions from the audience. One freshman acting major raised the question of what advice would the two alum give to their freshman selves. To that Boseman said, "Be patient and don't rush to be where you want to be in your career, it will all come," Coles added by emphasizing, "enjoy the process and enjoying doing the work while in the process."
To me, this was a night for the books. Watching this film to hearing from the actor and producers themselves, made the film even more interesting. Being that the people who had a major impact on the film went to Howard definitely added the icing on the cake! Make sure to check out 21 Bridges in theaters on November 22nd.